The following scheduled WTAA"s standard training courses are all base on our late Master Tung's teachings and conduced by the loyal disciples of late Master Tung. Please note that although Master Tung was born in Shan-dong . China in 1916 but since China's civil war(1938-1949) Master moved to Taiwan. So all his disciples and their teaching has nothing to do with the Communist China,or so called People's Republic of China(PRC). Therefore, in the present time, PRC China has nothing to do with  our Master Tung's Acupuncture, except PRC Communist government has created  those fake form( or TCM style alike) Tung's acupuncture to confusing people in the free world. In this world you can only obtain genuine Tung's Orthodox Acupuncture from the W.T.A.A.(a professional  not for profit organization in Canada) and nowhere else! Also  please note our late Master Tung(1916-1975) is utterly against Chinese Communism, therefore none of his disciple is a Communist or would collaborate with the PRC regime. Beware! there are so many fake Tung's acupuncture  teachers from PRC  trying to messing  with our genuine Master Tung's  disciples and  our proper unique  teaching.   In fact, none of the 73 Master Tung's loyal disciples ever taught Master Tung's acupuncture in any Chinese Medical Schools in the PRC China.   people should know that our  Master Tung was buried in his  most loved Taipei,  Taiwan, Rep. of China  not in Shandong , PRC,   Red China.
「There are many so called MasterTung's Acupuncture courses conducted by some people who has no connection what so ever with our late Master Tung. Students wish to learn genuine Tung's Orthodox Acupuncture must be aware not to be fooled  by those charlatans! 」
The First Post-COVID  hands-on training course will start from January, 2023 in Toronto, Canada. The training course will conduct  by Dr. Palden Carson, MD  the most senior disciple of late Master Tung, who is the only qualified teacher appointed by Master Tung in 1972.
New TOA Training courses will resume in March 2023 for UK, Italy, Spain, Germany, Brazil, Taiwan, Australia and USA.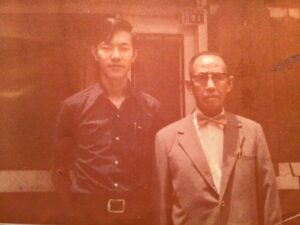 Master Tung and his most loyal disciple Dr. PaldenCarson, MD  both in front of Master Tung's Acupuncture Clinic in Taipei, Taiwan ( October, 1972)
1) Toronto Tung's Orthodox Acupuncture Basic Diploma  Course :
Date: 23-24-25 June, 2023
Venue : 106 Main Street Unionville, Ontario L3R 2E9 Canada
Contact : WTAA at info@worldtaa.org or Tel: +1-905-947-4548
Open for MD, L Ac, R Ac, D C, RMT, & RSN.
Deadline of Registration: two weeks before actual course (before 11/06/2023 ).       Course fee: $ 800 only.  This special training course only open to student who is a Canadian or American resident practitioner.                # Please call +1-905-947-4548  or our Secretary Mary Achue at 905-201-1856 (urgent ) or send an Email to info@worldtaa.org for further course  details.
2. London Tung's Orthodox Acupuncture Intermediate  Diploma Course.
Date: 26-27-28 August, 2023
Venue: Best Western Swiss Cottage Hotel, Swiss Cottage, London,
UK  Contact: W.T.A.A.106 Main St. Unionville, ON ,L3R 2E9 Canada
email: info@worldtaa.org  This course open to EU MD,  Paramedic , Acupuncturist …etc.         Course Fee: £700( €790). by PayPal,  Visa, Master cards  or Bank wire transfer.
Deadline of Registration: 11/07/2023
3. Salvador Brazil Tung's Orthodox Acupuncture Basic Level I & Advanced III course.  
Date: 7-8-9 October, 2023
Venue: America Tower Hotel , Salvador, Brazil
Coordinator: Dr. Fernanda Livramento
at : fernandaclivramento@gmail.com or T:(71)99907-0331
This first special course is in the memory of Dr. Gutemburgue' s
devotion toward  our Master Tung's Orthodox Acupuncture
Deadline of Registration: 31/08/2023
4. Jundiai , Sao Paulo Tung's Orthodox Acupuncture Level I Basic &III Advanced course .
Date: 13-14-15 October, 2023  to be arranged by coordinator: Dr. Cassiano M. Takayassu at cassiano1972@yahoo.com.br  or Tel: +55 11 99980-8656
venue:Odontology Clinic auditorium, Jundiai,-SP Brazil
More training courses to be continued on this page soon.(5/05/2023)